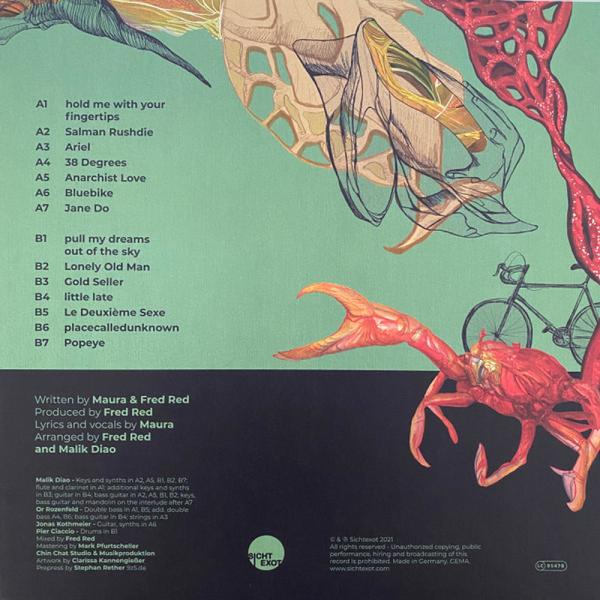 1.
hold me with your fingertips
---
8.
pull my dreams out of the sky
---
description
Maura & Fred Red: eine dieser absolut romantischen Produzenten und MC Connections, bei denen man spürt, dass hier eine Verbindung glüht, die weit über Emailverkehr à la "hab dir'n neuen Ordner Beats geschickt" hinausgeht!

Den Interpreten dabei den "Bedroomproducer" und Rapperin Stempel aufzudrücken wirkt dann aber doch schon nach dem ersten Track auf "Grimus" fast blasphemisch, denn was die beiden hier an Bandbreite auf Albumlänge abfeuern ist zu groß für jede Schublade.

Knallharte Breaks, dezente von Jazzbesen geführte Grooves und funkgeladene Synthiesolos, treffen auf eine der charismatischsten Frontfrauen, die unser junges Hip Hop Deutschland zu bieten hat. Maura bewegt sich spielerisch leicht in ihrem Universum zwischen soulgeladenen Kopfstimmen und Hardcore Rapflows, die alles auf ihren Platz verweisen was sich bis dato noch für konkurrenzfähig hielt. Das Ganze von Fred Red penibel und mit Liebe produziert, stilvoll instrumentalisiert und dabei so kompromisslos edgy, dass einem am Ende bei aller Demut nichts anderes übrigbleibt, als die Madlib/Erykah Referenz laut auszusprechen.